Expert Staffing
Structure, Incorporated can provide your firm with contract staffing of expert-level professionals in order to augment your permanent workforce. Candidates can be placed in-house at your facility on a temporary basis until the required tasks are completed. Because we are an engineering firm, not a staffing firm, our recruiters have an in-depth knowledge of the technical skills you require and can interview candidates appropriately. Examples of the type of positions we typically fill are:
Design Engineers
CAD Designers
Industrial Engineers
Electrical Engineers
FPGA Engineers
IT Specialists
System Administrators
SAP Programmers
Project Managers
Call us today at 920.475.6374 to see how we can help augment your in-house workforce with additional talent.
Workforce Flexibility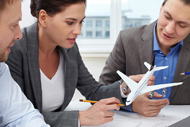 Contract staffing can help manage your company's workflow and cashflow through expansions and development cycles.
Adding permanent staff is expensive. Training, benefits, and relocation add up to substantial investments for every new employee. We can help manage your fluctuating workforce requirements with skilled, articulate, and qualified temporary staff, and you can thereby manage your cashflow in proportion to hours actually worked.